Thank you to our wonderful community, our sponsors, the OCSO Explorers and our dedicated board members for another successful Crawfish Boil! We had another sell out year and are looking forward to next year!
Click here to view photos of this year's event
THANK YOU TO OUR 2018 SPONSORS
Resort Quest
Cox Communications
Emerald Coast Funeral Home...
Okaloosa County Sheriff's Office
Emerald Coast Realty
Synovus
Walton County Sheriff's Office
Family Eye Care - Dr. Fregger
HSU Educational Foundation-Dr. Paul Hsu
Comfort Suites FWB
Nicholson/Reeder
Fort Walton Beach Police
Chautauqua Healthcare Services/Panhandle 211
Fraternal Order of Police
Eglin Federal Credit Union
Johnson Supply Company
Premier Paint & Body
Christine Kwik
Aurum Jewelery Studio
Paul & Dayna Stinebiser-Edward Jones
Fudpuckers
Fort Walton Machining
Bryan Pest Control
Steve Baxter Insurance
Baker Pic N Save
Jennifer Schweikert - State Farm
Keller-Williams/Crystal Watkins
Michael Lolley
M&M Chiropractic
Shari Bruns
Jackie Adkins
Sunset Vettes
Walker's Ace Hardware
___________________________________________________________________________________________________________________________
2018 EMERALD COAST CRIME STOPPERS CRAWFISH BOIL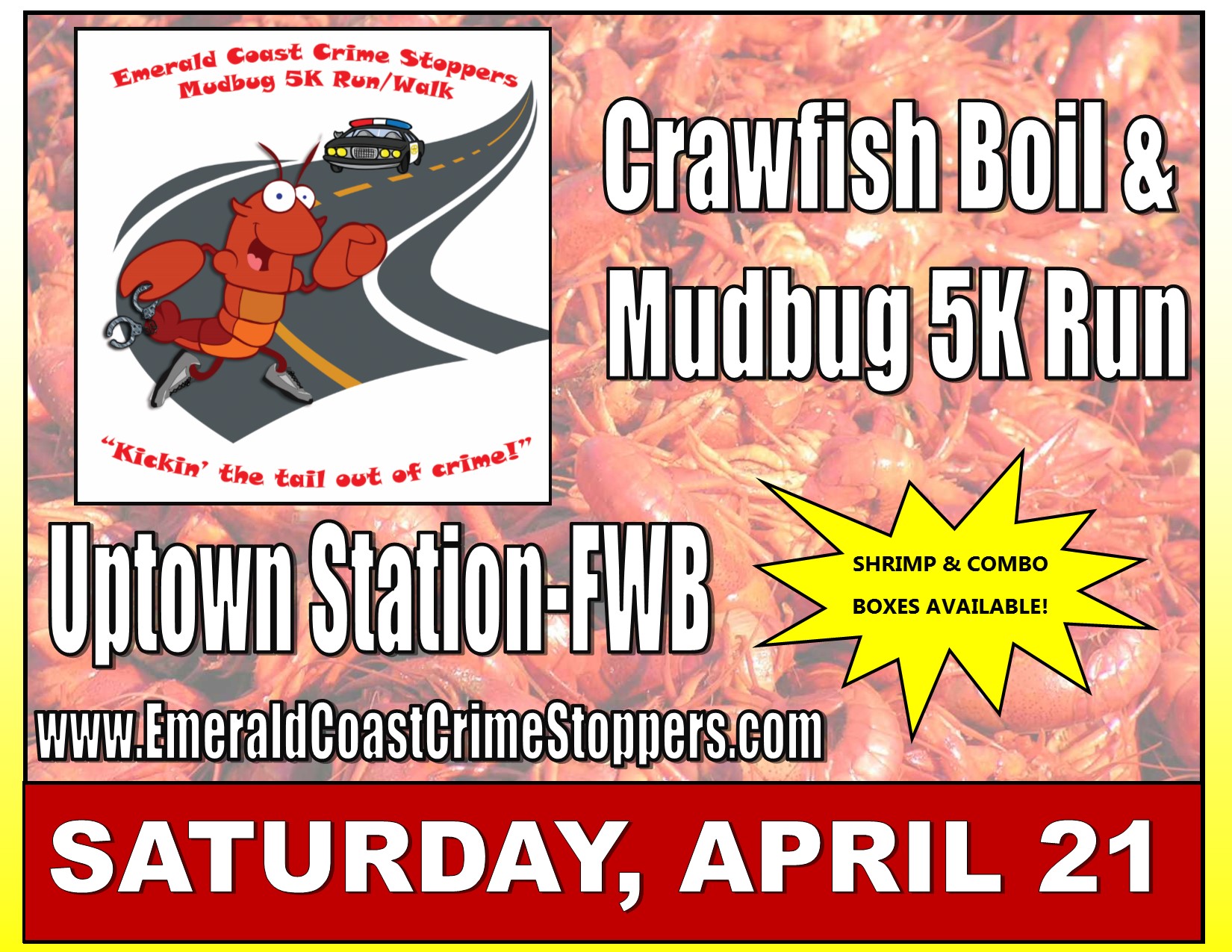 Help kick the tail out of crime, and have a great time doing it! Join Emerald Coast Crime Stoppers Saturday, April 21st for a good ole' fashioned crawfish boil at Uptown Station, Fort Walton Beach! The fun starts at 8AM with the Mudbug 5k Run/Walk and at 11AM we'll have lots of Louisiana Crawfish to boil up and shrimp as well! It's gonna be fun for the whole family! Dikki Du and the Zydeco Krewe Band will be performing from 10-2, live radio remote and the Okaloosa County Sheriff's Office will have a K-9 on hand. Bring the whole clan, eat some great food, help stomp out crime and just have a great time!

$15 a box OR 4 boxes for $50!
---
MUDBUG 5K RUN/WALK

The Crime S
toppers Mudbug 5k Run/Walk is a family friend community event to benefit the Okaloosa County Sheriff's Office EXPLORER POST #543. The Sheriff's Explorers are middle and high school aged students preparing for careers in public safety and service. Monies raised will be used to provide uniforms along with training and educational opportunities to these future leaders.

EVENT DAY:

April 21, 2018. Race starts at 8:00 A.M.

ENTRY FEES: $20 Early registration/ $30 Late registration / $10 Student

NWFTC Members will receive a $2.00 discount for 5K

The 5k course starts on Hughes Street in Fort Walton Beach and ends at uptown Station at the Annual Crime Stoppers Crawfish Boil!!!

Awards will be given to male and female runners in multiple age groups as well as the top Adult and the top under 18 male and female walkers.

T-shirts will be given to the first 150 registrants!

**You may register on line at
www.active.com
through April 18, 2018***
_____________________________________________________________________________________________________________
SPONSORSHIP OPPORTUNITIES AVAILABLE:
Mac Daddy: $5,000

*30 sec pre-recorded advertisement during the Crime Stoppers TV show (10 airings on Cox Cable)

4 week radio package where business name will be included as a sponsor (120 ads)

Live radio remote mentions (each hour) during event

**Designated area for promotional table at event

Banner/Scroll advertisement on Crime Stoppers TV show (10 airings on Cox cable)

Your business promoted in all advertisements & promotional material reaching out to 10,000 locals

Your logo web link on ECCS web site

Facebook & Twitter recognition

10 free boxes – crawfish, shrimp or combination. Includes corn, potatoes & sausage (while supplies last)

Craw Daddy: $2,500

Live radio remote mentions (each hour) during event

Recognition on Crime Stoppers TV show (10 airings on Cox Cable)

*Designated area for promotional table at event

Your business promoted in all advertisements & promotional material reaching out to 10,000 locals

Your logo web link on ECCS site

Facebook & Twitter recognition

6 free boxes – crawfish, shrimp or combination. Includes corn, potatoes & sausage (while supplies last)

Crawfish: $1,000

Live radio remote mentions (each hour) during event

Recognition on Crime Stoppers TV show (10 airings on Cox Cable)

*Designated area for promotional table at event

Your business promoted in all advertisements & promotional material reaching out to 10,000 locals

Your logo web link on ECCS site

Facebook & Twitter recognition

4 free boxes – crawfish, shrimp or combination. Includes corn, potatoes & sausage (while supplies last)

Crayfish: $500

Your logo web link on ECCS site

Recognition on promotional material

Your logo on event banner

Facebook & Twitter recognition

2 free boxes – crawfish, shrimp or combination. Includes corn, potatoes & sausage (while supplies last)

Mudbug: $100

Your logo web link on ECCS site

Facebook & Twitter recognition

1 free box – crawfish, shrimp or combination. Includes corn, potatoes & sausage (while supplies last)